Introduction
Himachal Pradesh is home to a number of quaint towns, including Shimla and Kufri. Tourists, those who like the outdoors, and those who are looking for an exciting experience will find a lot to enjoy in any of these places. In comparison, Kufri is situated at an elevation of around 2413 meters above sea level, whereas the city of Shimla is located at an elevation of approximately 3200 feet above sea level. Anyone who comes to one of these locations is sure to be enchanted by the lush vegetation, majestic mountains, and tranquil lakes. There are numerous things to do in Shimla and Kufri that one can enjoy while on a trip to these beautiful towns.
Visit the Christ Church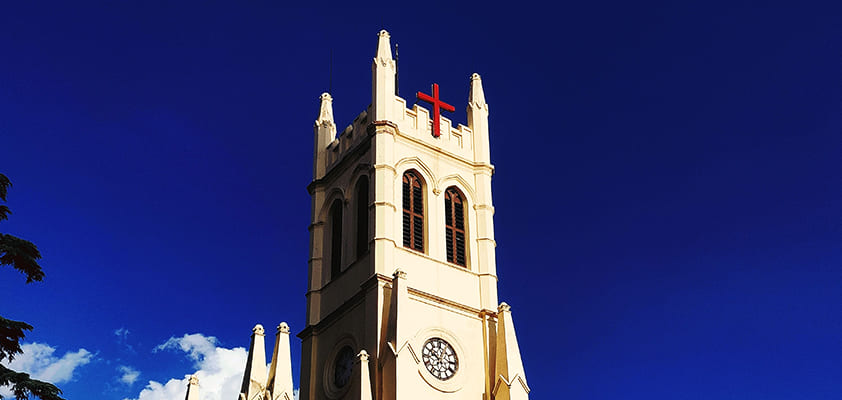 Christ Church represents the Victorian style very well. It was constructed by the British in 1847, and it is still in use today. The church is notable for a number of distinctive elements, including stained glass windows by English artist Charles Kempe (1840-1880). Gothic arches and columns give this structure an antique aspect while making it seem cutting-edge (thanks to the absence of metal and iron). Both the towers and the steeple are constructed of stone. Bible scenes are depicted in vivid color on the stained glass windows. The church's front entrance has two massive wooden doors that have been painted white and gold to give the impression that they are studded with precious stone
Go on a shopping spree on Mall road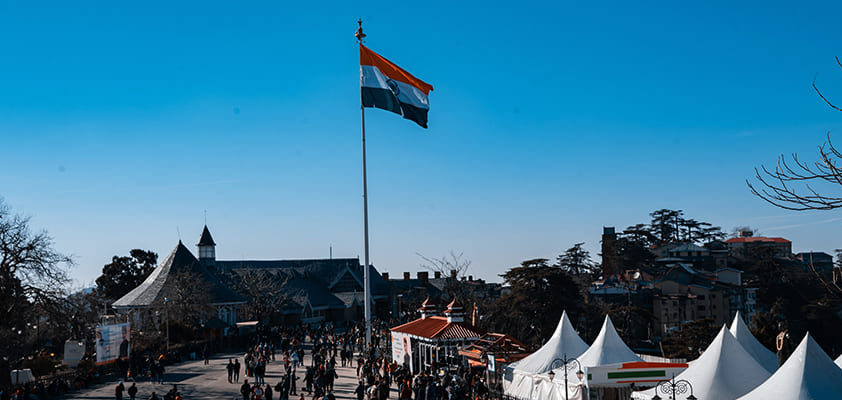 Shopping is a popular activity in Shimla, and the most popular shopping area is located on Mall Road. Along this stretch of road, there are a number of shops that provide discounted pricing on a variety of goods, including apparel, jewelry, and souvenirs. There are also a few stores that carry branded products of high quality, so you may seek them out if that's what you want. Although there are a great number of other activities available here, this is the most common one.
Enjoy the beauty of Jakhu Temple.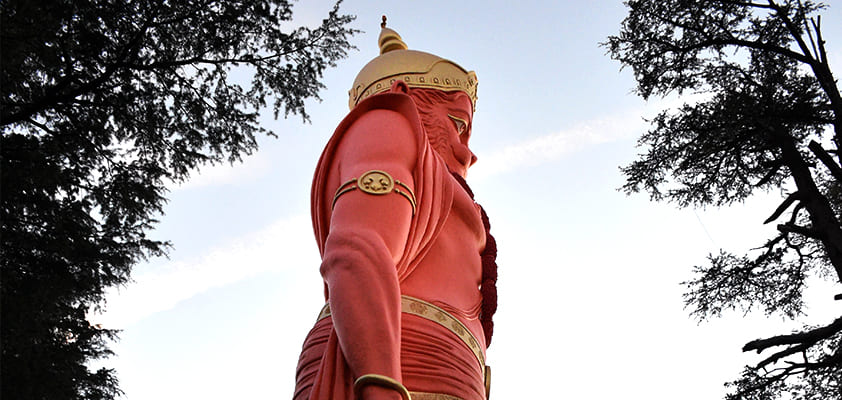 On a hilltop in Shimla is the Jakhu Shrine, which is a temple devoted to Lord Hanuman. The temple is home to a number of traditional celebrations and offers visitors a breathtaking panorama over the town. It is also known as the " Monkey Temple" due to the fact that it is home to a variety of animals, including dogs, peacocks, and parrots in addition to monkeys. The temple was constructed by Maharaja Ranjit Singh in 1790 when he was on a visit to Kufri; however, only two rooms from this time period survive today in their original form as a result of significant damage incurred during British colonial control (1849–1947).
Visit the Annandale Ground to indulge in fun activities
The Annandale Ground is a well-known location for a variety of sporting events, including cricket, football, and hockey. In addition, it is an essential rest stop for cyclists who want to find comfort in the time they spend on the road. During your time in Shimla, if you are seeking something entertaining to do, you could think about going to the ground. The name " Polo Ground" was given to Annandale Ground due to the fact that it was originally the site of polo matches that were played by Europeans during the colonial era. Even in modern times, people from the surrounding region and visitors alike make use of this lawned space as a training field.
Experience the glory of Shimla State Museum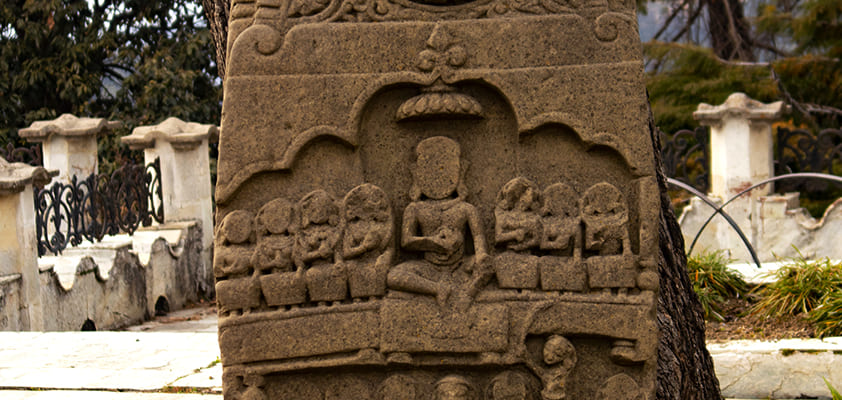 The State Museum is one of many museums here. Its original purpose, to house relics from the British Raj, dates back to 1852. There are numerous artifacts here that are symbolic of life in the town while it was ruled by the British, such as clothes and weaponry used by troops stationed there.
One of the museum's several structures is devoted exclusively to family-friendly programming, including puppet performances and puppet-making classes (which are valid for both adults and children). If you want to take home a memento of your visit to the Shimla State Museum, the building also has an art gallery with works by local artists for sale.
Enjoy a peaceful walk on the Ridge
The central position of Shimla's Ridge makes it the city's primary cultural event center. You can find The Ridge on the renowned Mall Road. From the Ridge, you may go to several well-known attractions, including the Mall, Scandal Point, Lakkar Bazaar, Jakhoo Hills, Christ Church, and more. The Summer Festival is one of the best-attended celebrations of the town, and it takes place atop the Ridge. The Ridge's open space is encircled on all sides by a wide variety of places to dine and shop. The Gaiety Cultural Complex and the Town Hall are two other notable buildings that may be seen on the Ridge. Scandal Point is a major intersection where the Ridge meets Mall Road.
Get awestruck by the views of Kufri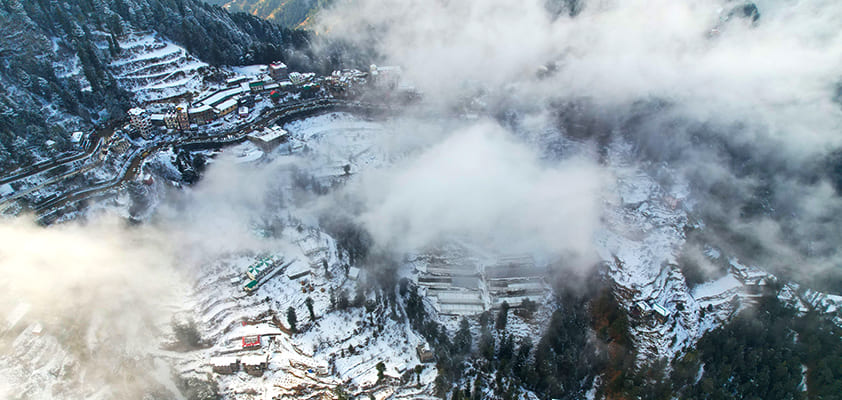 Kufri, known as the winter sports capital of Shimla, is a haven for outdoor enthusiasts and vacationers. This place is an outdoor enthusiast's dream, so keep up your hiking and trekking adventures there. In the winter, when everything is covered in a blanket of snow, this hill station takes on the appearance of a scene from a fairy tale. Visit the Himalayan Nature Park to learn about the region's unique flora and wildlife, or hike the challenging path to Mahasu Peak for breathtaking panoramas of the surrounding peaks. It offers exactly the right amount of delights to satisfy everybody, whether they're looking for quiet reflection or a heart-pounding adventure.
Indulge in paragliding and hiking at Mashobra and Naldera.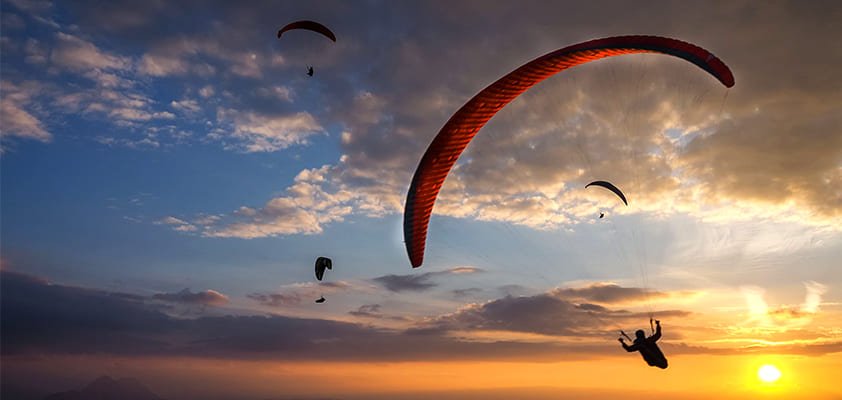 Mashobra and Naldehra are both quaint towns near Shimla. Both of these places have their own charm and have plenty of options for adventure lovers as well as peace lovers. Mashobra is a beautiful town, where one can enjoy a large number of adventure and leisure activities like rafting, paragliding, rock climbing, trekking, birdwatching, etc., which bring travelers to this quaint hilly getaway. Naldehra is renowned for its lush vegetation, golf course, and unobstructed views of the mountains covered in pine, cedar, and deodar trees. It is an ideal location for travelers seeking peace and stunning natural scenery. Both locations offer an exciting paragliding experience where you get to fly above the mountains at high altitudes through the air!
Have fun at the world's highest skating rink at Kufri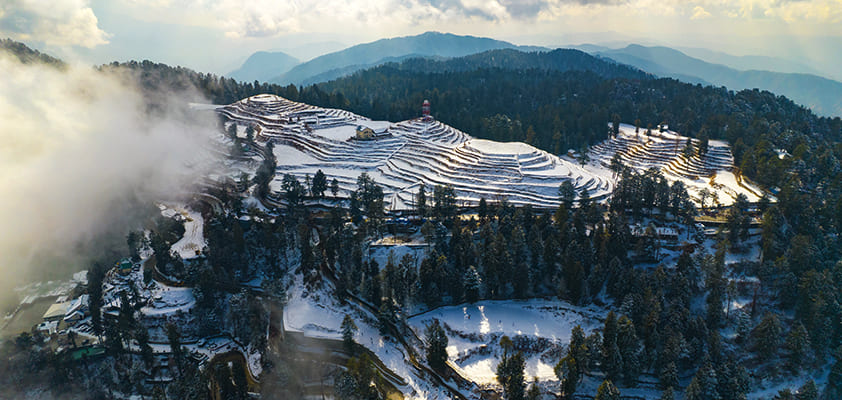 Skating on the rink here is an excellent way to spend a day. It is an interesting destination to go ice skating and is also one of the oldest ski areas in Himachal Pradesh. It's a popular spot to hold the annual winter sports event that takes place in the middle of February. Skating on ice produced from snow collected at higher altitudes is a great way to combine two of winter's best experiences: a trip to the mountains and a fun activity like ice skating. There are a lot of other things to do in Kufri, so before you set out there, you should make sure that your backpack is packed with all of the clothing and equipment that you will need.
Conclusion
Both of these towns are the most beautiful towns in India, and each offers something unique that tourists and locals alike may enjoy. The city of Shimla has a long and storied past, dating back to the time when it was ruled by the Mughals. Nature, exploration, and spirituality are only a few things that may be experienced there. Kufri is at its most exciting in the winter, when you may participate in a wide variety of exciting outdoor sports. The nicest views in the world may be found here, making for a peaceful visit. Both locations can give unique experiences to travelers, as there are many things to do in Shimla and Kufri. Staying at the Hotel Twin Towers is the perfect choice if you and your loved ones are planning a trip to the mountains.