Introduction
Kufri is tucked among the Himalayas, about 14 kilometers from Shimla. Established by the British in 1819, its popularity has skyrocketed in recent years. The area is often visited by hikers and outdoor lovers. You may also enjoy the numerous winter sports available, such as skiing and ice skating. Paragliding, ziplining, tobogganing, cycling, etc. are just a few of the various adventure sports available. It is a great vacation destination because of all the unique spots to see amazing animals and try out new pursuits. Because of its close proximity to the main town, this place provides a more upscale vacation option. Not only can you visit a wide variety of attractions here, but you can also visit a wide variety of attractions, all of which will certainly add to the quality of your trip and leave you with wonderful memories. This place has several destinations that are worth visiting, but the most popular tourist places near Kufri are listed below:
Fagu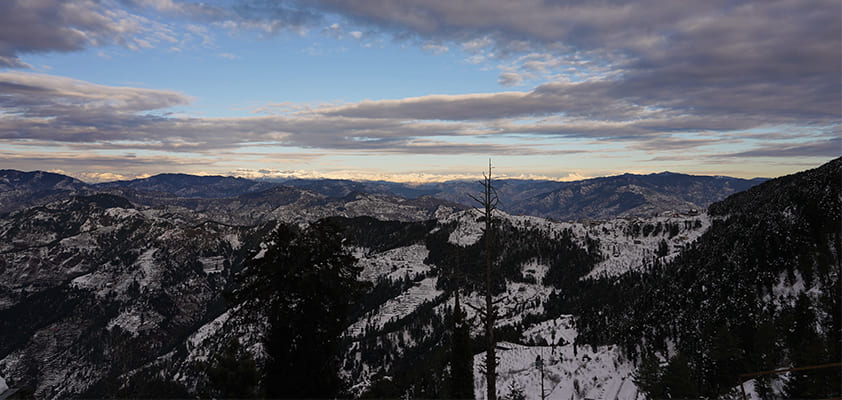 Fagu is a hamlet in the Himachal Pradesh district of Shimla. The town is situated at a height of around 2,000 meters (6,600 feet). Always shrouded in snow and mist, this quiet village is a perfect place to relax. One of the reasons why it is named Fagu is because the term was formed from the word fog. It is the highest peak near Shimla and is famed for delivering snow adventures during winter. The beauty and calmness of the location, with its gently swaying green fields and snow-covered mountains in the background, will never cease to amaze. Hiking is popular in Fagu, so visitors may take walks to surrounding pine woods and apple orchards, and a hike from Fagu to the town of Chharabra through the Tattapani stream provides stunning views of dawn and sunset.
Narkanda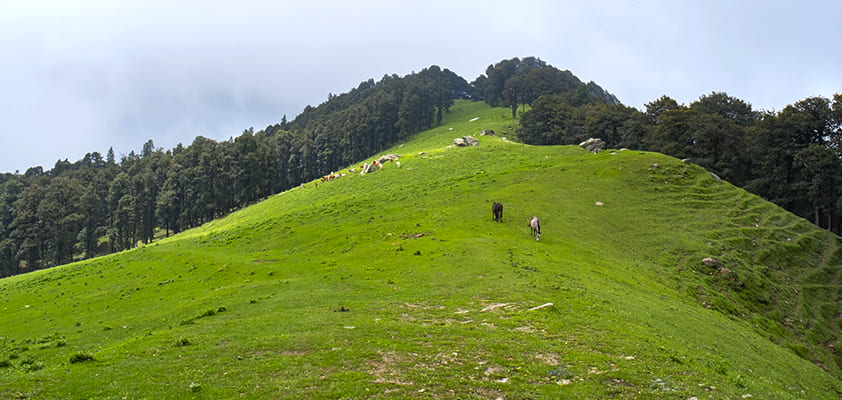 Narkanda is a beautiful town in the Shimla district of Himachal Pradesh, and it is home to a wealth of natural splendor. Narkanda, located 61 kilometers outside of the capital city, is a popular tourist destination all year round. This tranquil village, located at an elevation of 2706 meters, is surrounded by lush vegetation year-round. If you're looking for a little excitement in your life, this is the best option. If you're an adrenaline addict, this town has enough to offer you, whether you're into skiing or hiking. Narkanda's allure is radically transformed with the arrival of each new season. Because of this, the town is accessible all year.
Shoghi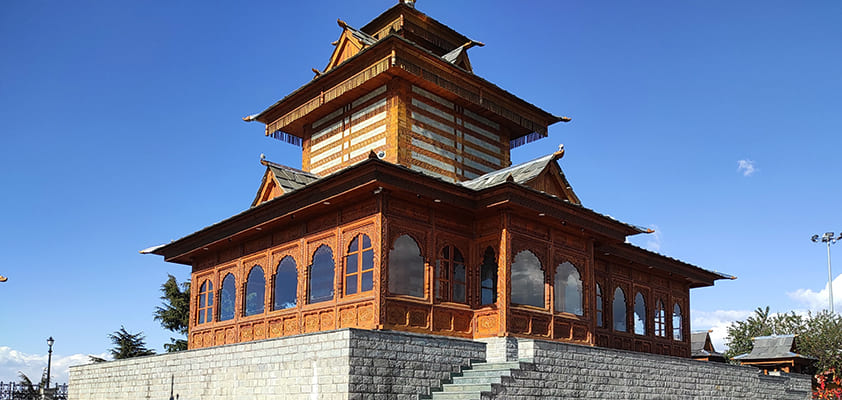 Himachal Pradesh is home to the picturesque hill station of Shoghi. It is situated at an elevation of 2,200 meters above sea level. Shogi is around 15 kilometers from Shimla and 45 kilometers from Kufri. Shoghi, a suburb, adorned with rhododendrons, oak trees, and undulating hills, draws visitors with its old-world temples, gushing waterfalls, fresh local fruit, extraordinary lodging options, and beautiful scenery. Many temples may be found there, leading to the area's other nickname, temple town. Popular activities in Shoghi include going for a stroll in the woods, setting up a tent and sleeping under the stars, seeing religious sites, and riding the train. Tara Devi Temple, Kali Temple, etc., are some of the most visited attractions in the area.
Mashobra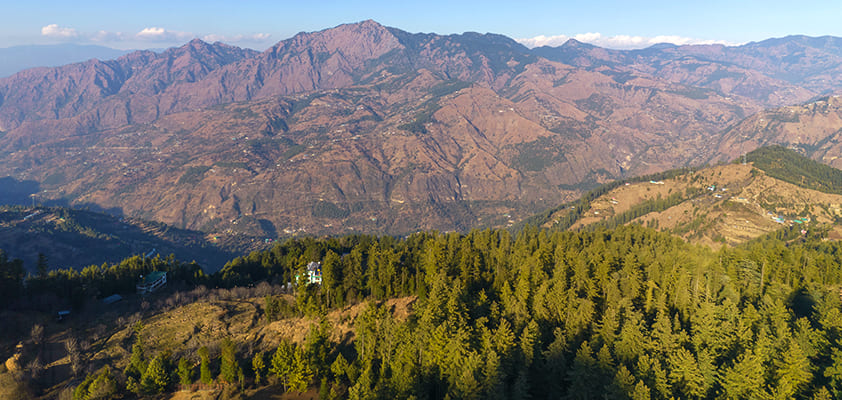 Mashobra, in the Shimla district of Himachal Pradesh, is a charming hill hideaway in the foothills of the Himalayas at an elevation of 2146 m. Located just around 10 kilometers (km) from the town of Shimla, this area is one of the most picturesque places to unwind in the company of Mother Nature. The hill station is popular among adventurers because it offers a wonderful setting for activities like camping, hiking, mountain climbing, rappelling, fishing, etc., as well as because it conceals charming features in its picturesque surroundings. Mashobra is a must-see for everyone with an unwavering affection for the verdant Himachali Mountains.
Theog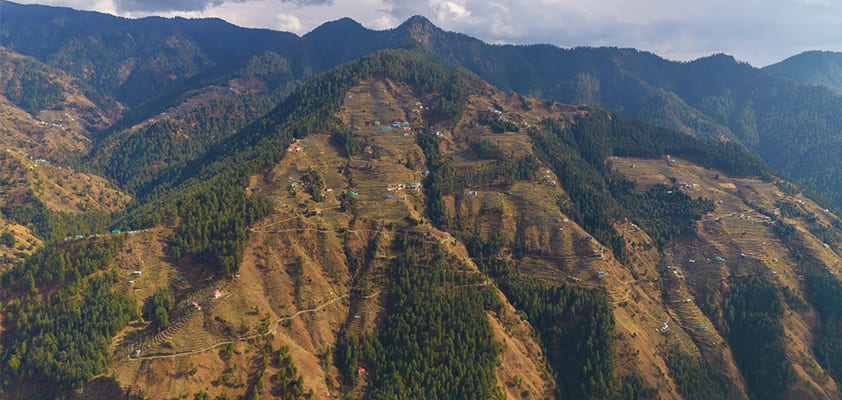 Theog in Himachal Pradesh, nestled in the foothills of the Himalayas, is a famous tourist destination that offers all the amenities of a typical hill station without the usual crowds. Theog, only 28 kilometers from Shimla, is an attractive hill station in which to spend a weekend because of its peaceful setting in the midst of natural beauty. It's also highly regarded as one of the best camping areas around. Theog is a hidden gem that benefits from being out in the path of the city's bustle and adjacent to the peace and quiet of nature.
Naldehra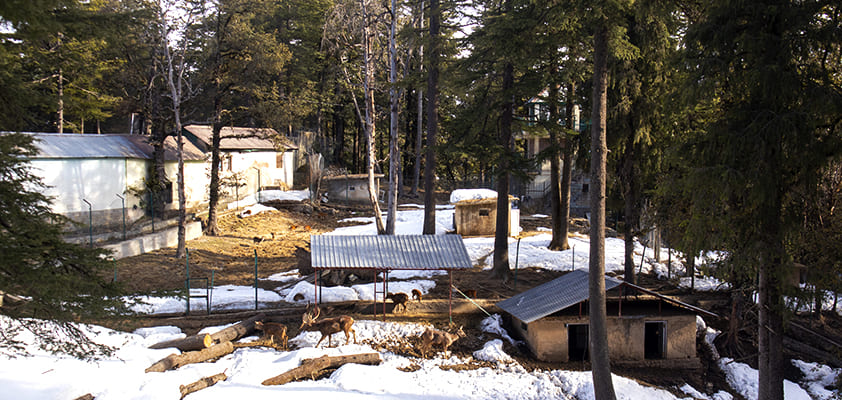 Located around 23 kilometers from Shimla, Naldehra is a small yet charming hill station in Himachal Pradesh. Known for having the greatest and oldest nine-hole golf course in the nation, this location is 2,195 meters above sea level. It's the ideal vacation spot for those in search of tranquility and a unique experience in nature. Greenery, a golf course, and a clear view of mountains covered with pine, cedar, and deodar trees have made Naldehra renowned. Naldehra is stunning because of the mountains and the Sutlej River that runs through it. Among the many attractions to see in Naldehra are its many temples, lakes, hot springs, panoramic splendor, and golf course. While on a trip to Himachal, you just must make the trip to Naldehra.
Chail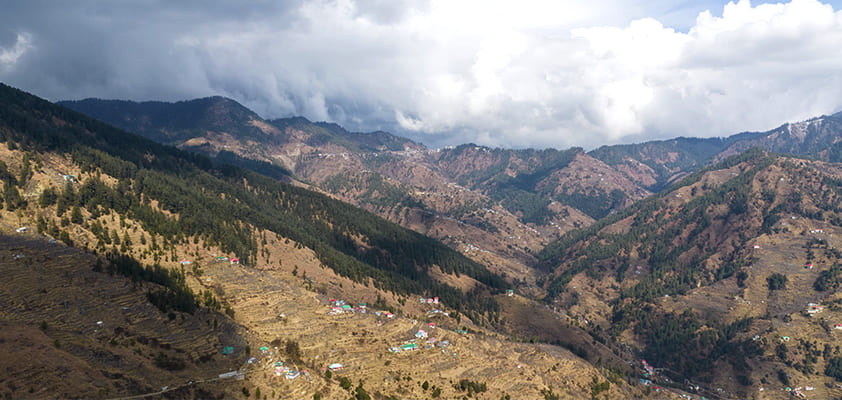 Located in Himachal Pradesh, Chail is a serene hill station that makes for a pleasant escape from the hustle and bustle of the metropolis. Located around 45 kilometers from Shimla, this place is 2,250 meters above sea level. Chail, a paradise in the Shivalik hills, is a popular tourist destination because of its stunning scenery and pristine natural beauty, as well as the fact that it is home to the highest cricket ground in the world. This beautiful hamlet was formerly the summer home of the Maharaja of Patiala and now serves as an oasis for visitors seeking solace from the hectic pace of the cities. Symbols of the former royal family of Patiala's influence in Chail include the Chail Palace, the Chail Cricket Ground, and the Chail Military School. Chail is heavily forested with pine and deodar trees. It's a great destination to visit because of the many hiking routes that wind through its verdant countryside and take in the breathtaking scenery of the surrounding mountains.
Conclusion
Kufri is one of the most attractive hill towns in India, and its spectacular natural beauty is one of the main draws for tourists. Travelers who value the outdoors and seek out-of-this-world experiences will find this destination to be perfect. Visitors visiting this place may experience a wide variety of adrenaline-pumping activities. The tourist places near Kufri are just as beautiful and entrancing as the town itself. While you are in Kufri, the Hotel Twin Towers is the finest place to stay since the hospitality services offered by this hotel are always up to standard and the facilities given will make you feel comfortable and peaceful.